What Drives You? RWB Australia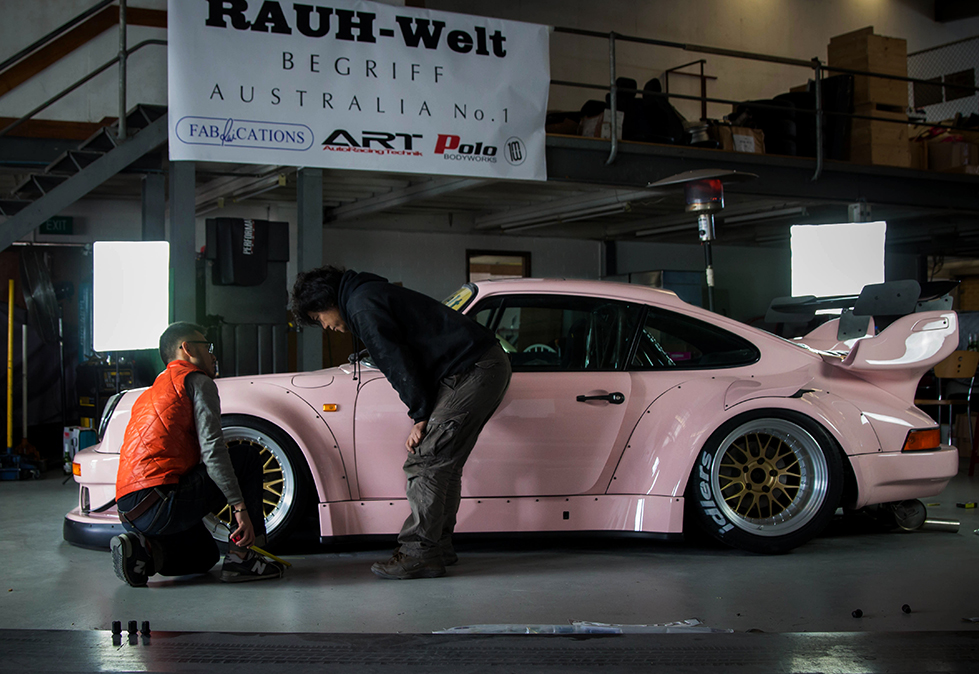 INTERVIEW W/ CHERN WONG FROM RWB AUSTRALIA
I first met Chern back in July 2015 when I flew down to Melbourne to watch the first RWB being built in Australia.

Chern is the founder of RWB and Fifteen52 in Australia and since the build of his RWB 930 by Nakai-San, he has become somewhat like family to me and has always supported my work. He even rocks my stickers on his Porsche, which I feel incredibly grateful for.
It still amazes me whenever I see photos of his car pop up on my newsfeed and I spot my stickers. I remember flicking through the Duck and Whale magazine which featured Chern's car and I spotted my stickers for the very first time! I was so shocked as I wasn't expecting to spot them at all and at the time it hadn't hit me that those were my stickers, that I had designed. I know it's probably no big deal to anyone else, but to me it's insane and I feel overly humbled. The thing about RWB as I've mentioned before is that we are all like family and always continue to support one another.
Chern is also an Architect so he has a good eye for detail and not only that, he is incredibly passionate about cars and driving. He even drove the pink Porsche all the way up to Sydney for the recent Rennsport event which was cool to see! He definitely has a stay driven mentality which I find inspiring, so I sat down with him for a quick 'What Drives You?" interview.
1 | What Drives You?
I'm driven by a constant inner voice of a nag and an obsession to get something right. It is hard to describe this in words, other than I feel there is an urgency to do certain things, to do it quickly and to do it well. Although people generally mistake my urgency for stress, I find myself slowing down when working on cars and machinery. I enjoy my drives in my RWB930 which started life as a 1986 911 G-series 3.2 Carrera, fixing up my 1982 911 3.0 SC, a Holden VE "R43" Commodore and built 3 bicycles: Level NJS, Vitus 979 and a Carrera.
2 | What MOTIVATES You?
Motivation is an addiction. We tend to be addicted to motivation rather than acknowledging hard work, let alone addicted to it. For me, what keeps me going is knowing that an actual result, feed back or a difference that I have made. I learnt this when people started writing back to RWB and to Fifteen52 saying how much they appreciate the product and what they are about to do to their cars next inspired by the movement. For instance, with every set of Fifteen52 wheels that finds new owners, I have remembered all the customers' names. I know which cars they go on to and the colour of their cars. Some of them became friends and we have each others' phone numbers. There was even an occasion where a wheel cap was missing and Bao (film director) and I drove to the customer's home to drop it off in a mailbox in Sydney, because we were in the right place at the right time with the right goods.
We also rarely make apologies to customers because our priorities are to make amends first, and then apologise. It makes the apology worth something to the customer. The same was felt when the first book of RWB was being made. Although I had previous small-scale publishing experience, we also found ourselves having a team of 5 people constantly creating content. It was new and we had many unknowns. The book was delayed a few weeks because we needed to source and specify the paper that we wanted according to a book published by the Porsche Museum in Stuttgart. Again, a letter was written to all the (few hundred) customers explaining the delay in detail. We received more orders there on and luckily, no refunds.
In different words, I believe when someone entrusts their hard-earned money into your pocket in exchange for your products - you don't own the money nor the product. You own their trust - so don't break that. Deliver it, and make it better if something undesired happens. That is why I do what I do.
3 | Who inspires You?
There are many people on the list. Some of them are very out spoken and have a lot of books written about them, but some are complete introverts. Most of them have one thing in common: they are obsessed with details and are consistent about their obsession. I appreciate Nakai-san for the speed and accuracy he possesses in carrying out the details on building RWB, Mies van der Rohe for the way he assembles different materials into a building, Henri Cartier-Bresson for his Zone system post-production in black and white, Steve Jobs for his back-of-house conversations with his team sorting out intricacies and to Michael Schumacher for nailing the apex every time at Spa. The list goes on...
Chern and the guys at RWB Australia have put in a lot of time and effort to carefully curate a 300 page book full of RWB passion. Titled 'Life After Birth RWB Volume 1' this limited edition, collectable item is now available for purchasing and I can't wait to get my hands on a copy to see all the beautifully composed images for myself!

RWB Australia
@RWB_Australia
@Fifteen52_Aus